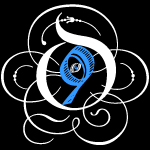 ---
Guitarist Matt Ullestad first picked up the instrument at age 13 with the intention of making noise with his buddies and copping as many Metallica riffs as he could. What ended up developing was an ever-expanding passion for music — be it rock, classical, electronic, world, etc.
With a few years of formal lessons under his belt, Matt
co-founded the bands Switchbox, Feel No Pain, and Thriver with some fellow high school metalheads. Then, while attending Penn State University, he took his musical exploration in a different direction, playing both bass and keyboard in the alternative/experimental rock bands Hamilton and The Fever Dream.
After college graduation, Matt joined up with the Hamilton, NJ-based cover band Fourth & Broad as a guitarist and keyboardist. A few years later, an online ad brought him to Orpheus Nine.
Matt's biggest influences are Alex Lifeson, Devin Townsend, Trevor Rabin, Eric Johnson, Frank Zappa, Edward Van Halen, Joe Satriani, Steve Vai, John Petrucci, Michael Romeo, Steven Wilson, James Hetfield, and Kirk Hammett.
Matt's gear:
---
© 2008- Orpheus Nine